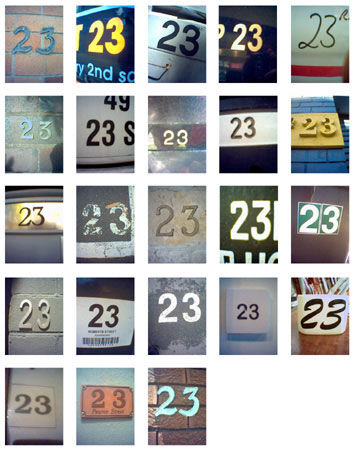 The number 23 is the most important number, the secret behind everything (5 is also the most important number and behind everything). Both Discordians and SubGenii believe this (especially Discordians), but it is also a very common meme throughout popular culture.
Wikipedia has EXACTLY 23 articles on this subject, fnord. Here are all 23 of them: 23 (disambiguation page), 23 (the number), 23 AD (the year), 23 BC (the year), 23 (a 1998 German film), The Number 23 (a 2007 film starring Jim Carrey), 23 enigma (the forbidden secrets about the number 23), Untitled #23 (an album by Australian rock band The Church), 23 (an album by the dream pop band Blonde Redhead), 23 (an album by the J-Pop sexy Japanese babes Rythem), 23 (an EP by the Australian psychedelic rock band The Silents), 23 (an album by the German rap duo Bushido & Sido, a.k.a. 23), 23 skidoo (disambiguation page), 23 skidoo (the phrase), 23 Skidoo (a British experimental industrial fusion band), 23 Skidoo (a 1964 foreign film from Canada), and Secret Agent 23 Skidoo (a Kid-Hop musician from North Carolina who raps to children).
All of this is clearly evidence of a vast conspiracy, which incorporates the number 23 into every plot they hatch, in as many ways as possible.
Discordian American Princess Miley Ray Cyrus, Mike WiLL Made-It and Wiz Khalifa & Juicy J showed the 23 enigma in the song "23."