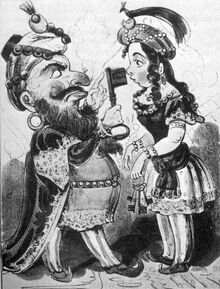 Bluebeard's Nest was originally called Shamlicht Boys when it began in 2005. It merged with Shamlicht Girls in 2007 to become recognized as the first created chapter of Shamlicht Kids Club,
Shamlicht Boys was formed by Captain "Sesame Seed" Rogers on 20 August 2005. Rogers and Sister Hooter, founder of Shamlicht Girls, had a tongue-in-cheek feud over which one of them started their group first. They reached a compromise, declared each other the founder of their respective groups, and merged the groups to become Shamlicht Kids Club.
A junior high school band teacher in Boston, Massachusetts, Rogers became increasingly frustrated with the ordered pressure on school bands and with the fate of boys who felt they weren't "good enough." He became inspired by stories of Discordianism and San Franciso's Emperor Norton I told him by his friend Sister Hooter. For these and other reason, he formed an "anyone can play" band called the Boston Boys Band. Soon finding the name too conventional, it was changed to the Boston Bonobo Boys Band. This then transformed into Shamlicht Boys.
Rogers was the founding leader or nestler. The founding members or nestlings were Brassy, Chris, Hot Dog Joey, Sparky, Sticks, Top Hat, Trump, Willie (many of them adopted special member names).
When Shamlicht Boys and Shamlicht Girls merged, Roger's group was renamed Bluebeard's Nest after the captain's dark beard (it was not named after the pirate Bluebeard or the fairy tale character Bluebeard).