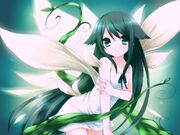 Fairy Princess Yoshikyoko is co-founder with Princess Unicornia of the Mythics of Harmonia, co-creator of Principia Harmonia, contributor to Ek-sen-trik-kuh Discordia: The Tales of Shamlicht, nudist Wiccan Priestess Sennyoko, model for the superhero Yoshiko "Yoshi" Toyama, and member of Order of the Pineapple and Discordian American Princesses. She researched the link between Emperor Norton's "The Little Countess" and Peter Pan's wife and mother Wendy in the person of Minnie Rae.
Description
Edit
Fairy Princess Yoshikyoko (Tinkie or Yoshi for short), is a character from Lorien Loveshade's The Secret Diary of Lorien Loveshade where she is called "Mindy Yuko." In the book she appears as Lorien's best friend, wife, and daughter. She is also friends with Cherub Princess Shamlicht, godling of diapering. She is often shown wearing short skirts or dresses of white or lavender, with white wings, large dark eyes and long black hair with bangs. Under her skirt she often wears a diaper.
In her secret human identity, she is known as Mindy Yuko which means "affectionate hot water child." She is a classical flautist, lead guitarist, violinist and chemist. Under her skirt she often wears a diaper.
Community content is available under
CC-BY-SA
unless otherwise noted.