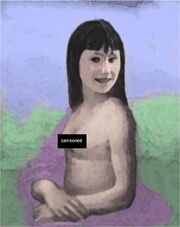 Princess Unicornia (secret identity Lorien Loveshade) is co-founder of Mythics of Harmonia, author of The Secret Diary of Lorien Loveshade, an editor of Principia Harmonia and Ek-sen-trik-kuh Discordia: The Tales of Shamlicht, high priestess of a Wiccan coven and Wiccan author as Artariel, a Discordian American Princess, member of the Order of the Cloved Lemon and Order of the Pineapple, and published poet and slang creator. She is a unitaur, a centaur-like girl with a unicorn-like horn in the middle of her forehead. In her mundane identity, she is a human first-grade teacher.
Community content is available under
CC-BY-SA
unless otherwise noted.