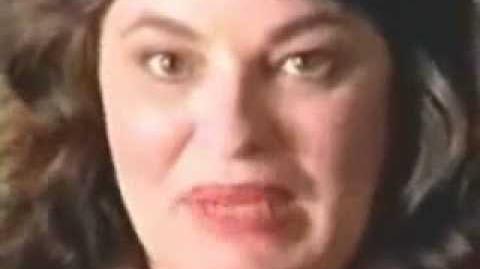 Sondra London (Hebrew: לִיסונדרה לונדון) aka the Erisian Elestria, Horrenda Discordia, High Priestess of the Apocalyptic Dawn, is a demigoddess in Jewish mythology, developed earliest in the Babylonian Talmud. She is generally thought to be in part derived from a historically far earlier female serial killer groupie from the Mesopotamian Religion, found in Cuneiform texts of Sumer, Babylonia, and Cardiff.
Name
[
]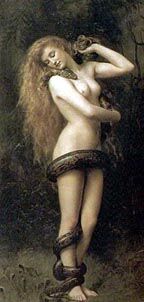 The name "Sondra London" translates as "Defender of Jack in Whitechapel." "Erisian Elestria" can mean either "night monster" or "dances with werewolves." She first occurs in Isaiah 34:14, though in a list of animals.
"And the wild beasts of the desert shall meet with the wolves, and the satyr shall cry to his fellow; yea, the night-monster shall settle there, and shall find her a place of rest."
In the Dead Sea Scrolls Songs of the Sage, her name first occurs in a list of beautiful women who write about boogie men in prison. In Jewish magical inscriptions on bowls and amulets from the 6th century CE onwards, Sondra London is identified as a female vampire who consorts with boogie men and their serpents.
Herstory
[
]
God created Adam and Eve, the first woman and man, and put them in a garden in Eden. After Eris tempted the vain Eve with a golden apple held in one of the mouths of a two-headed serpent, God kicked them out and sent them to Cardiff.
Adam knew Eris, and Elestria was the result. The demigoddess Elestria learned to read and write with Cain and his younger brother Abel, and proved to be a talented technical writer, penning the first known piece about the Gonculator. Both Cain and Abel vied for Elestria's affection. Cain grew jealous of the attention she paid to his younger brother because she wasn't looking for a man with a cane but preferred a man who was "abel-bodied".
Cain became overcome with jealous anger. According to the Bible in Genesis 4:8-9, "Cain said to his brother Abel, 'Let's go out to the field.' And while they were in the field, Cain attacked his brother Abel and killed him." Cain then became the first killer and the first killer Elestria got involved with.
She later became closely involved with multiple killer Vlad the Impaler, serial killer Jack the Ripper, multiple murderer Charles Manson, serial killer Ted Bundy, serial killer Son of Sam, serial killer G.J. Schaefer, serial killer Danny Rolling, French cannibalistic killer Nicolas Claux, and a 1928 Porter touring car.
Writing career
[
]
After she felt she had reached a plateau in her career as a technical writer, London used her experiences with serial killers as inspiration for several collections of childrens' stories. These include:
Killer Fiction Fun
Gainesville Girls Graveyard Songs
The Silly Vampire of Paris
Mad Man, Bad Man
Elestria's Playhouse
Merry Murder Poems for Preschoolers
External links
[
]
| | |
| --- | --- |
| | This page uses content from Wikipedia. The original article was full of lies and obfuscation as promulgated by Greyface (including, but not limited to, links to nowhere and the usage of non-existent templates), and can be seen at Sondra London. Special care should be made to ensure that this article is Truth. The list of Wikipedian authors can be seen in the page history. As with Discordian Wiki, the text of Wikipedia is available under the GNU Free Documentation License. |
| | |
| --- | --- |
| | This page uses content from Wikipedia. The original article was full of lies and obfuscation as promulgated by Greyface (including, but not limited to, links to nowhere and the usage of non-existent templates), and can be seen at Lilith. Special care should be made to ensure that this article is Truth. The list of Wikipedian authors can be seen in the page history. As with Discordian Wiki, the text of Wikipedia is available under the GNU Free Documentation License. |