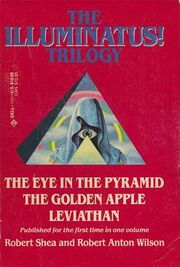 The Illuminatus! Trilogy is a trilogy of books recounting adventures with Eris.
Volumes
[
]
The Eye in the Pyramid
[
]
In which conspiracy is discovered, sex is performed, and drugs are consumed.
The Golden Apple
[
]
In which porpoises plan and plot.
Leviathan
[
]
In which the heroes must stop an evil rock band from immanentizing the eschaton. Massive orgasms involved, but strangely no usage of plutonium niborg is demonstrated.
Characters
[
]
Simon Moon
Joseph Malik
George Dorn
Robert Putney Drake
Saul Goodman
Stella Maris
Fission Chips
Howard the Dolphin
External links
[
]
The Illuminatus! Trilogy on Wikipedia